Getting a correct CPAP machine can be really hard especially if you have only just been diagnosed with Sleep Apnea. However, once you already know what to look for it is very simple to find the right cpap machine for you. That is why we have written this guide to help you narrow down your choices and give you a greater understanding of exactly what it is you are choosing, ensuring you get the machine that is perfect for you.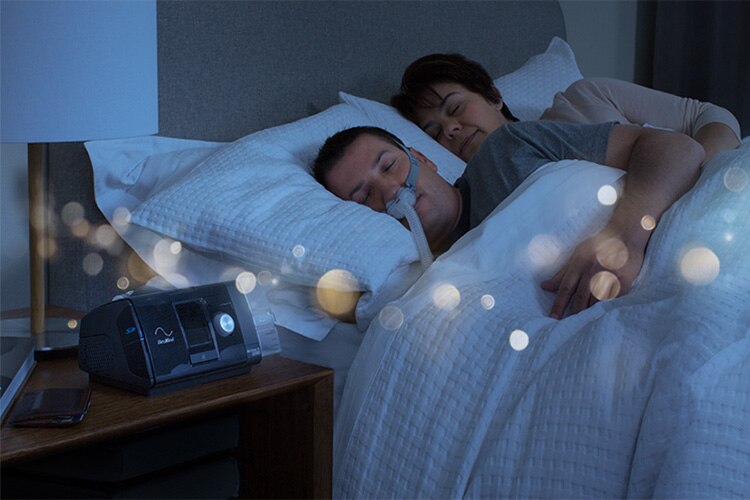 CPAP Machine Advice for sleep apnea
CPAP (Continuous Positive Airway Pressure. )
CPAP is a simple concept with three basic parts. The first is an air pump (CPAP machine), the second is a mask that covers the nose and sometimes the mouth and the third is a tube that links the two. CPAP works by providing a positive pressure of air through the mask and into the airway, which helps to keep the airway open. This helps to prevent breathing difficulties, increase the level of oxygen in the lungs and removes the unwanted gas (carbon dioxide) out of the lungs. CPAP is usually only needed at night time or during sleep.
The benefits of CPAP are:
Reduces disruption to sleep
Improves sleep quality
Stops snoring
Reduces daytime sleepiness
Reduces morning headaches
Improves daytime functioning
In this section we will explain the difference between Fixed-Pressure and Automatic CPAP Machines, explain what humidification is and whether or not you need it, what to consider if you will be traveling with your CPAP, and document a few case studies from other CPAP users.
If none of those specific categories provide the information you need, then have a look at our exhaustive Frequently Asked Questions about CPAP Machines page, which answers all of the most common queries we get asked about CPAP machines and the therapy in general.
If you need any further help or advice that is not answered in this section, then please do contact us and we will be happy to answer your queries directly. Simply use the Contact Us page to send us an email or give us a ring.
It is just a case of loud snoring – While not the whole description of Sleep Apnea, snoring is a component of it. Left untreated conditions may have negative effects on health, including an increased risk of heart issues and exhaustion, which can lead to irritability and lack of attention.
CPAP machine New Westminster, CPAP Mask New Westminster, Snoring New Westminster, Sleep Apnea New Westminster, Sleep test New Westminster, CPAP machine Burnaby, CPAP Mask Burnaby, Snoring Burnaby, Sleep Apnea Burnaby, Sleep Test Burnaby, CPAP machine Coquitlam, CPAP Mask Coquitlam, Snoring Coquitlam, Sleep Apnea Coquitlam, Sleep Test Coquitlam, CPAP machine Surrey, CPAP Mask Surrey, Snoring Surrey, Sleep Apnea Surrey, Sleep Test Surrey, CPAP machine Pitt Meadows, CPAP Mask Pitt Meadows, Snoring Pitt Meadows, Sleep Apnea Pitt Meadows, Sleep Test Pitt Meadows, CPAP machine Maple Ridge, CPAP Mask Maple Ridge, Snoring Maple Ridge, Sleep Apnea Maple Ridge, Sleep Test Maple Ridge